29 janvier 2023 
Il y a une théâtralité naturelle dans son écriture et la résonance parfois massive de l'orchestre complet avec une section de percussions à base de gongs et de gros cuivres contrastait de façon spectaculaire avec des textures plus délicates : harpe et vibraphone, et les fils poétiques du piano.
BBCNOW/Diakun/Tharaud review
– a magical musical mind takes flight
Hoddinott Hall, Cardiff
Thierry Pécou delivered a scintillating piano concerto grounded in Balinese tradition before Marzena Diakun presided over a moving eulogy to Bohemia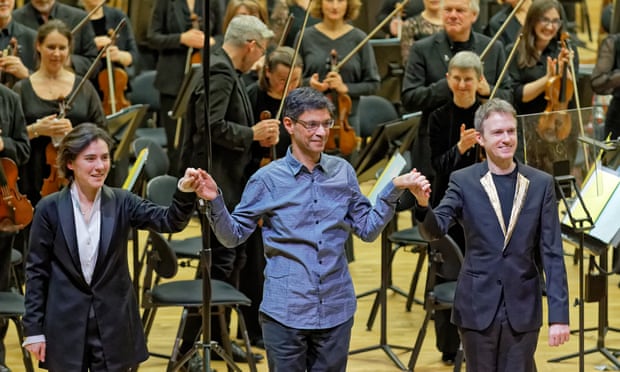 Flow of inspiration … Marzena Diakun, Thierry Pecou and Alexandre Tharaud with the BBC National Orchestra of Wales at Hoddinott Hall, Cardiff. Photograph: Dimitris Legakis/The Guardian
Starting point for this programme by the BBC National Orchestra of Wales was Debussy's Prélude à l'après-midi d'un faune, often considered to mark the beginning of modern music. Evocatively played, it served too as a prelude to Thierry Pécou's piano concerto, Cara Bali, conceived for Alexandre Tharaud who gave its UK premiere here. The work pays homage to the Balinese gamelan tradition, and no one would have understood better than Debussy – whose experience of hearing Javanese gamelan players at Paris's 1889 Exposition Universelle was so fundamental – why Pécou should be drawn to its sound-world.
Yet this was not simply the re-creation of the aura and internal structuring of a gamelan orchestra within a symphonic line-up, rather a way for Pécou's musical imagination to take flight. As well as exploiting the piano's percussive character in ostinato patterns, Pécou blended his instrumentals in sounds that were tantalising for not being what the ear initially seemed to perceive.
There is a natural theatricality in his writing and the sometimes massive resonance of the full orchestra with a gong-biased percussion section and big brass contrasted dramatically with more delicate textures: harp and vibraphone, and the piano's poetic threads. Similarly arresting were the occasional moments of silence, bristling tension then dissipated, most magically with scintillating figurations at the top of the keyboard, balancing the huge gong-like pounding at the lower extreme. Tharaud's combination of formidable technique with pianistic finesse helped make this a dynamic affair, at its loudest perhaps not for the faint-hearted, but a rewarding addition to the repertoire.
Debussy was an early influence on Bohuslav Martinů, who only embarked on writing symphonies when in exile in the USA in the 1940s having been blacklisted by the Nazis. In a rare outing for his Third Symphony – dedicated to the Boston Symphony Orchestra and Serge Koussevitzky – the BBCNOW were again in fine form. Conductor Marzena Diakun kept a tight rein on the teeming energies of Martinů's flow of inspiration, its rhythmic drive not precluding elements of melancholy and nostalgia for his native Bohemia, although quite different from Dvorak's works just half a century before.
Available until Friday 24 February on BBC Sounds.
Rian Evans